EFRONT GLOBAL PRIVATE EQUITY PERFORMANCE SERIES
An International Comparison of Major Markets
Foreword
Welcome to this special report on the risk and return characteristics of major private equity and venture capital markets globally, part of eFront's Global Private Equity Performance Series. This study represents, to the best of our knowledge, the most comprehensive publicly available analysis of returns, risk and liquidity among private equity's main geographies.
But this is not meant to be a definitive report. It is more an essay, an attempt to draw reasonable conclusions from historic data, using the most powerful data analytics available on the market, from eFront Insight.
Private markets do not offer precise or timely information, and the nature of closed-ended funds introduces other complexities. These challenges are opportunities for those willing to invest the time in truly understanding the idiosyncrasies and stages of evolution in different geographic markets. In analysing private markets, there are rarely any right answers, only good questions. eFront Insight helps the world's leading institutional investors to ask them. I hope you find what follows illuminating and inspiring in your own search for the risk and return profile that suits your organisation.
Best wishes,
Tarek Chouman
Fig. 1 – Risk (5%) and return (IRR) analysis of private equity funds by geographical area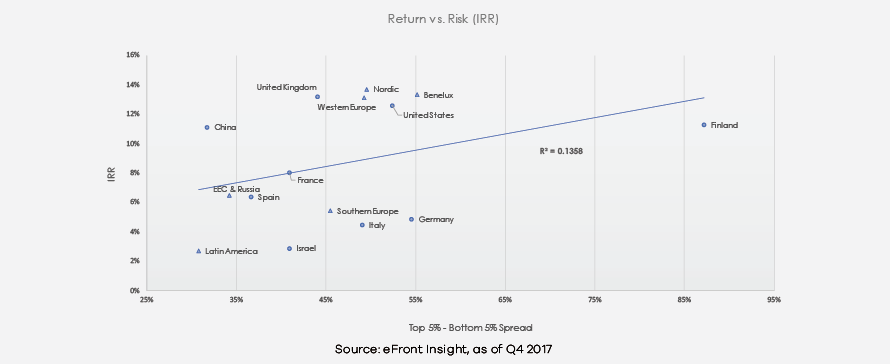 Browse our extensive collection of leading industry research. Learn more about the latest trends and global performance through our various series of research reports covering a wide range of key topics.
More articles loaded. Use Shift+Tab keys to browse.
Global Private Equity Performance Series

In most of modern finance, things tend to matter only if they can be measured precisely and frequently.

AI²: Alternative Investments Meet Artificial Intelligence

The profitability and investment potential into AI is not a contentious topic. But to what extent could AI disrupt and enhance the actual process of investing in alternatives itself?

Private vs. public: co-movements are stronger than you think

The quarterly movements of multiples of US LBO funds and major US stock indexes appear to be significantly positively correlated, and this observation is further amplified during the bullish market periods immediately before the markets contracted.