Multiple theoretical factors are cited in support of private equity secondaries investments, but chief among them is often the shorter time to liquidity delivered by the asset class, as a result of the investments being made in mature portfolios. However, since 2013, an unprecedented shift has taken place in the relationship between capital calls and distributions, meaning this may no longer be the case.
From 2000 to 2012, capital calls were significant. On a yearly basis, funds would call on average 14.6% (Fig.1). However, since 2013, calls have fallen steadily, from 8.73% in 2013 to just 1.08% in 2017 – the lowest level on record.
Not only have funds reduced their capital calls, but distributions have increased significantly, reaching more than 17% in 2017 – their highest level on record. From 2013 onwards, distributions have outpaced capital calls for five straight years, meaning that on a net basis, secondary funds no longer support the thesis of offering significant upfront net capital deployment.
On the returns side, secondaries funds on aggregate generate significant multiples of invested capital. Since inception, European funds have recorded a return (TVPI) of 1.53x, while North American funds have generated a 1.52x. If European funds appear as more attractive, they nevertheless exhibit a wider dispersion of returns. Top quartile funds reach a 1.65x and bottom quartile funds a 1.09x multiple. As a matter of comparison, the figures are respectively 1.56x and 1.31x for North American secondary funds.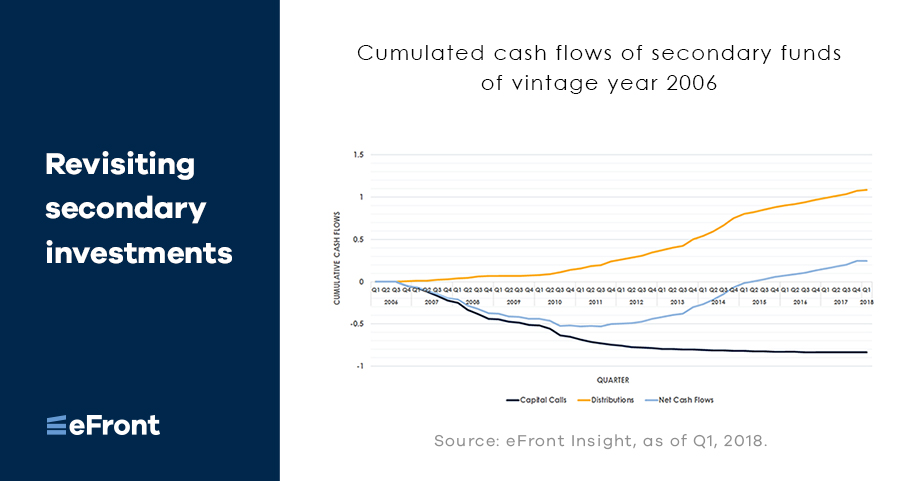 Browse our extensive collection of leading industry research. Learn more about the latest trends and global performance through our various series of research reports covering a wide range of key topics.
More articles loaded. Use Shift+Tab keys to browse.
Global Private Equity Performance Series

In most of modern finance, things tend to matter only if they can be measured precisely and frequently.

AI²: Alternative Investments Meet Artificial Intelligence

The profitability and investment potential into AI is not a contentious topic. But to what extent could AI disrupt.

Private vs. public: co-movements are stronger than you think

The quarterly movements of multiples of US LBO funds and major US stock indexes appear to be significantly positively correlated.